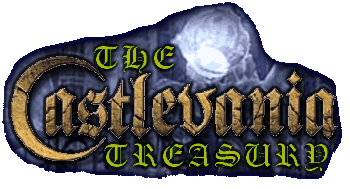 Last Updated: December 7, 2007
What's New
December 7, 2007
Hello once again. Long time no see. Lots of stuff has happened in my personal life in the last 3 years. Thus the haitus. But since it's not fair to anyone to leave the Treasury offline, I figured I'd resurrect the site.

I hope old friends will once again enjoy the site, and that newcomers will appreciate the site for the first time.

Some stuff has been added since the Treasury was last online. Quite frankly, I can't remember exactly what was added, so be sure to look around. As for future updates, I don't know how frequent they will be, since I manage and part-own a restaurant now, plus my personal life. I've had a person or two offer to help, and if you'd like to help out as well (writing, gathering of info, etc) please send me a message through either my YouTube page or through the Castlevania Dungeon Forums.

Sections I plan on doing myself are Symphony of the Night, Aria of Sorrow, Dawn of Sorrow, and Lament of Innocence. I might do others. The rest of the games are fair game. Take note though, that I take this site very seriously, and want the most unbiased and professional work done on this site. I'll take care of the HTML coding and organization myself. So I guess I'd be the editor. :P

I'll work on this site when I can, and I feel like my interest is rekindled. I do, however, have a lot of other stuff to do. YouTube vids, FAQs, personal life, an update for the Depot. I just don't have the time I used to. The drive and interest is there, however. So if I have a good few days off I'll work on the Treasury. :P

Stuff I'm doing FOR SURE right now is a map/walkthrough/items/souls/bestiary for Aria of Sorrow (read: huge section, lots of work), maps for Aria of Sorrow, maps for Symphony of the Night/Nocturne in the Moonlight, bestiary for Nocturne in the Moonlight, and maps for Lament of Innocence. I also have started maps for Curse of Darkness, but I don't know if I'll continue them. Lastly, I have various maps around for Super Castlevania 4 and Castlevania 3, but haven't put them into the pages, yet.

I guess that's it for now. Enjoy. Any suggestions or help please message me.

Rob
November 7, 2007
Hey, Rob here. It's been a long time. One month from now, that would be December 7, 2007 the Castlevania Treasury will be back online. No bullshit, this time it's real.

I've had a lot on my plate for a couple years, and though it's still hectic. And I just kind of got out of the whole HTML and FAQ thing. After a long haitus, I feel it's time for me to get back into it. I'm a person of only doing something if my heart is 100% into it, and I feel the time has come that I can ease my way back into at this one website. The Doom Depot doesn't have much content to add, besides some music from Jaguar Doom (which requires A LOT of editing), so it's this one website. Hopefully I don't burn myself out of HTML like I did in the past.

Please note, that although I feel that I should put the Treasury back online, my life is still super nuts, including me part-owning and managing a restaurant, moving for the unpteenth time in a few years, and such. I will work on the Treasury as much as I can.

As for what I've been doing on my puter when I'm bored, you all might want to check out my YouTube Page. I have TONS of vids on there, like Doom (many versions), Norse by Norsewest (Lost Vikings 2), Prince of Persia 2, Powerslave, Quake II, Wolfenstein 3D and more. I hope to continue making vids soon, but I've been enjoying Castlevania: The Dracula X Chronicles too darn much. For the first time in years, I feel like doing new stuff. Guess that means I'm getting out of my proverbial rut. I'm more motivated than I have been in years.

So, that's what's happening with me. See you all in a month. The Treasury will be online, though not completely new, it'll be something for all to see again, or for the first time. I'll do as much as I can in one month, and we'll take it from there. If you would like to help out with the Treasury, which I would like to see completely fleshed out with a lot of Castlevania goodness, feel free to send me a message through my YouTube page.

As always, talk at you all later.

Rob The Super Castlevania 4 Treasury was concieved by Good Richter in late 2000/early 2001. The site consisted of information on the classic SNES game "Super Castlevania 4", and was the only site to concentrate solely on the game. The site, however, wasn't very popular. Partly due to the design by a WISYWIG editor, partly because devotion game sites only seem to get traffic in the time of the game's popularity.

It was in late 2001 that Elbryan42 lended a hand. With the site's iminent extinction, a fellow Castlevania fan decided to help out. The slightly cleaner redesign was released. After Elbryan42 honed some of his HTML skills he once again redesigned the site, giving it a more "Treasury" feel..

Shortly after the redesign, Good Richter asked Elbryan42 to make a walkthrough/faq for Super Castlevania 4. Since Elbryan42's obsession with the game is unparalelled, the faq was finished in record time, with everything you'd expect in a game FAQ and more.

In early to mid 2002, Good Richter asked if Elbryan42 would like to take complete control of the site. Elbryan42, of course, said yes. He decided to broaden the scope of the site to Castlevania in general, and be renamed to "The Castlevania Treasury". The design is remeniscient of the Doom Depot, also by Elbryan42. It was a long process of designing the website, converting The Ultimate Super Castlevania 4 FAQ to html, adding the Castlevania Music section from the Doom Depot, and rewriting most of the site.

The new site was released on November 28, 2002 at http://castlevania.wrong.button.com/ which is proudly hosted by Elbryan42's friend who owns wrong.button.com. And a newer, better redesign was released on December 5, 2002.

After an 8 month break, the Treasury went back online on May 28, 2004. Now proud to be part of the Inverted Castlevania Dungeon (http://www.inverteddungeon.com), the Treasury now has a walkthrough for Dracula X: Rondo of Blood.

This site is dedicated to providing lots of info an media on the Castlevania series, but nothing that will keep Konami out of their hard earned money. All music on this site can't be found on a soundtrack (in it's current form) and no ROMs or ISOs will be provided. This is a clean site, and will stay that way.

The Castlavnia Treasury is owned, written, and designed by Elbryan42. Original concept by Good Richter. If you wish to use the FAQ or any material on this website for anything but personal use, please make sure you have permission. Thank you.