A Musical Coming-of-Age at the End of the World While in Scotland
Anna and the Apocalypse
Anna and the Apocalypse is entertaining; there is enough blood and carnage to delight the horror viewer and enough light hearted music and witty banter to delight the non-horror enthusiast. It's in the realm of the first Zombieland meets White Christmas, where there are plenty of laughs and plenty of awe (sad emoji) and ew (vomit emoji) as well. That said, I can see why Rotten Tomatoes gave the film an aggregate 78% as it's not without its flaws.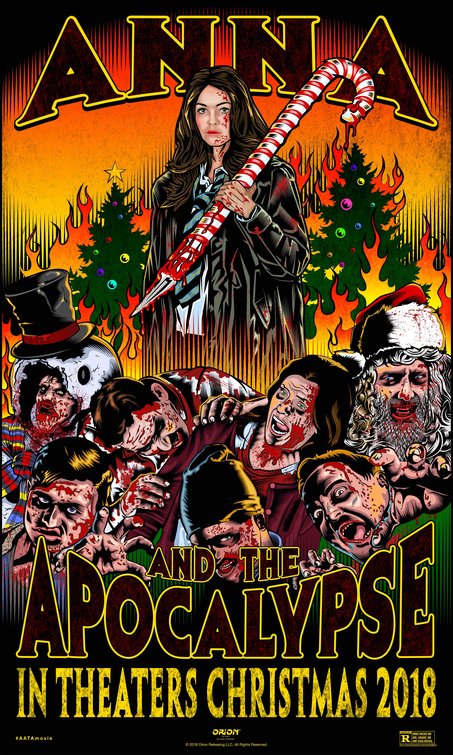 Ella Hunt plays Anna Shepard, the (not so unfamiliar) "smart and beautiful but rebellious" high school senior who doesn't really want to go to college after high school. Instead, Ella wants to take a year off and travel the world. She is joined by her friend John (Malcolm Cunning), and again he's basically a common trope: he's in love with her but is clearly banished to the friend zone. His story is very expected, meaning that the best part about John was his ugly Christmas sweater.
But wait, there's a secondary lead character who's also female: Steph North (Sarah Swire), the alto/baritone actress Anna's Soprano. Like Anna, Steph is a smart girl, one who wants to be known as someone via her reporting on events but never actually be seen (the trope-ish loner). The character is introduced as, one, a lesbian and, two, not a friend of Anna. The two characters balance each other nicely but the film still follows the expected story of the two "enemies" becoming "friends" once they realize how much they have in common despite the fact that, in reality, they probably would have run in the same circles and known each other for years.
The supporting characters are all various types of high school misfits: Lisa (Marli Siu), the pretty and talented drama club girl and Anna's other best friend; Lisa's boyfriend Chris Wise (Christopher Leveaux), who is part of the a/v club (because of course he is since everyone character here has to fit into a specific clique); and piece de la resistance bad boy and (wait for it) jock, Nick (Ben Wiggins). The cast is then rounded out by Anna's father, Tony (Mark Benton), who should have been a major part of the film, with him butting heads with Anna over her future, but ends up becoming an after thought, and Principal Savage (Paul Kaye, who you might recognize as Thoros of Myr from Game of Thrones), the authoritarian head of the faculty.
The worst part of the film is the basic plot, setup before the movie really gets started: beautiful young girl doesn't want to go to college after high school (tiny violin) and dad is angry about it. No tears for that start as the pretty girl seems to have it all but, of course, hates her life. Pretty standard teenage stuff. I did wonder (and hope) if it was going to get better than that snore-fest intro as, honestly, I didn't feel bad for the pretty, smart girl especially since, statistically, 44.6% of high school students who become college attendees drop out in their first year. I encourage high school kids to stay in school but, inn Anna's case, yeah girl take a year off.
One of the best parts of the movie is the jocks who embrace the apocalypse. The add needed zest and fun in their own weird way. The music is also pretty decent with a few solid toe-tappers. The talent show (because of course, in a movie like this, there's talent show) has one of the best songs, performed by Lisa the drama girl. It's a track anyone who has ever been in high school choir would have wanted to sing if for no other reason than to stick it to the authoritarian principal and have a big moment in front of the school.
My favorite character in the film was Grandma Bea Wise (Ruth McGhie), a delightful woman if every there was one. Her face during the show was priceless as she shows her adoration for her grandson's girlfriend. I giggled every time they showed her face as she embodies what I would think a Scottish grandmother should be: slightly tipsy and smiling all the time.
As for villainy and the major evil in the movie, it is pretty obvious who the contenders are from the beginning: principal, jock, and all the usual tropes. There are a few choices of who you may be routing for and "most likely to get the well deserved death scene". In retrospect there is some enjoyable growth that happens for the characters so you might find your opinion of the characters shifting as the movie plays out. I don't want to give it away but I will say the zombies aren't the only evil, and the real big bad gets what they deserve.
Of course, this is a zombie film so there has to be gore and action. The best gore comes during two scenes; first during Anna's big song halfway through the movie, and then right after with the decapitation of a snowman. There is a lot of gore once the apocalypse starts and, pleasantly, there isn't a huge amount of music in the musical which may make it more bearable for those who don't like the musical genre. Enjoyably, the music is really decent, not super catchy like songs from Dr. Horrible but I could learn one or two for karaoke. To my count there are maybe six songs which, for a movie that runs just over an hour and a half, provides solid spacing for the music without overdoing it.
This film is probably a three- to four-star affair (depending on the critic and their mood). Honestly, I really enjoyed it; it's better than the common Christmas holiday movie like Home Alone or A Christmas Story. It's not serious and it can be a good time with a bit of blood splatter, so I am definitely adding it to my Christmas watch list going forward. That said, I'm not really a Christmas movie person (unless you agree that Die Hard is a Christmas movie) so your opinion may vary. For the record, I generally watch White Christmas every year, too. So if you like to watch both those kinds of movies, you will likely enjoy Anna and the Apocalypse. Happy Watching.