Deep Under the Sea
Pacific Rim
Although the original Pacific Rim is a movie right within the wheelhouse of Asteroid G, the movie came out during one of the periods when this site (and it's related versions) wasn't updating, so it fell through the cracks. Although we did eventually cover the sequel, Pacific Rim: Uprising, a couple of years ago when it hit home video. Still, this has been one of those movies I kept meaning to get to but, for some reason, just never did.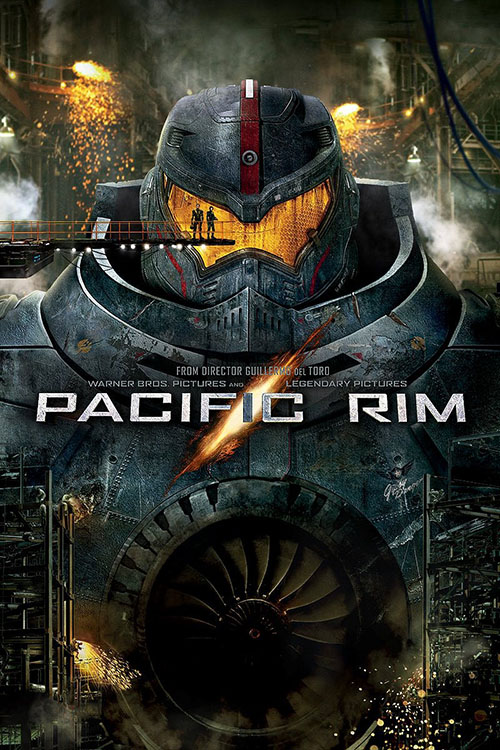 Okay, I know the reason: kaiju movies just don't do anything for me. I get the basic appeal of seeing giant monsters destroy things, but in comparison to movies like King Kong, which somehow manage to make its giant monster into a soulful creature, most kaiju films don't really treat the monster as a character, just a force. Sure, maybe I'm not watching the right films, and if I got deep into the Godzilla series maybe I'd see otherwise... but then again, I'd have to actually invest in that series of films, and I this point I think that ship has sailed.
Still, I do occasionally try to get into new kaiju films just to see if, somehow, I've finally found a love for these movies. Generally, the answer is now, and back when I first saw it, that included the original Pacific Rim. Something about the movie just didn't thrill me at the time, and I wrote it off. I found the sequel enjoyable enough, if stupid, but at the time neither of them would have rated highly for me. Still, in the spirit of rediscovery it seemed like a good time to try the original film in the set again and see if, maybe, this time I could find something more to latch on to. After watching it again, I'm still not completely sold on the film but I will admit it has its charms at least.
The movie starts with, essentially, a history lesson, getting us up to speed on the setting. At some point, on Earth, a giant rift opened in the Pacific Ocean, a rift to another world, and through that rift came the first kaiju, a giant monster bent on destroying human civilization. Somehow the humans were able to build, and deploy, a giant mech (called a "jaeger") to fight the beast, The battle was fraught, but the beast was felled, and the jaeger pilots, hunters, were hailed as heroes. For a time these jaeger pilots were able to beat back the kaiju, keeping the world safe. But then the kaiju that came through got bigger, and started showing up more frequently, and the tide slowly started to turn against humanity. Instead of relying on the jaegers, humanity started building giant walls around the ocean, all along the coasts of continents, to keep the monsters at bay, retiring the jaegers. Then the walls failed.
The hero of the piece is Raleigh Becket (Charlie Hunnam). Once a hunter, he washed out when his brother, who piloted their mech Gypsy Danger with Raleigh, died in a kaiju battle. Ever since Raleigh just hasn't been able to get into a mech again. But now, with the wall falling, Raleigh is called back into service by the head of the jaeger program, Marshal Stacker Pentecost (Idris Elba). Gypsy Danger has been restored, and they need Raleigh to pilot her. And they have to do it quick because the kaiju are coming quicker now, and if they don't end this war soon, Earth will be lost to the monsters.
There's actually a lot more to the plot than that as this is a two-and-a-half hour film densely packed with plots, sub-plots, and a lot of details. It's pretty clear that writer/director Guillermo del Toro had a very specific, and detailed, world he was building for this film and h8e poured his heart and soul into it. On that front it shows because this is probably one of the most richly detailed monster movies I've ever seen. Everything feels lived in, with enough thought and substance put into everything that no matter how ridiculous the concept gets, and it does at times stretch credulity, the film makes it all work. Del Toro is a craftsman and it shows here.
It's not just in the story that the film shines but also in the artistry. The filming of the film, its monster effects, and it cinematic details, are so damn artistic. The monsters glow with inner light, pretty and scary at the same time, while the mechs are scratched and worn, making them feel like real machines. Despite most of the film being pure CGI it doesn't feel like CGI. Del Toro directs the special effects in such a way that they feel real, the closest I've ever seen CGI get to feeling like practical effects, and its amazing. This is artistry, applied to a monster film, which is Del Toro's specialty.
I just wish there was more to the film main plot to carry the production. For all its loving details, dense ideas, and strong world building, the main plot is pretty hollow. We have Raleigh, played with wooden ambivalence by Hunnam (an actor who has yet to impress me in anything), and his whole arc is getting back in the jaeger, to find the ability to fight one last time. He does this in the first thirty minutes of the film. SO then we have to turn to his co-pilot, Mako Mori (Rinko Kikuchi), a girl who lost her parents in a kaiju attack years ago and wants revenge. Gypsy Danger is the first time she's allowed to pilot a mech, so we assume the film will be about her growth, earning her place on the team by film's end. Except, nope, that plot line is resolved halfway into the film, with an hour to go.
What that means is that all the big character beats and emotional moments happen before the film is even half done. The rest of the film is just one long sequence of mech fights and kaiju brawls. Del Toro is a master of his craft, make no mistake, but even he can't sell an entire hour of constant monster fights because, after a while, it all just becomes so tiring. It's power slop, really, a long slog of battles that become indistinguishable about a while. The monster fights are fun for a time, but we need more than just CHGI spectacle to sell the story, and this film loses that thread before the film is even close to done.
For a good hour-and-a-half I found myself really enjoying Pacific Rim, something I didn't expect this time around. There's a fantastic world here, and the film manages to convey that in its propulsive first half. It just makes the mistake of tying up all its major storylines before the film is close to done, putting spectacle over substance, battles over emotion. I found myself tuning out right when the film should have been getting good, and that's a major issue in a sci-fi action spectacle film. I needed more substance but all I got were giant monster fights.
I'm sure there will be readers saying, "this is supposed to be a movie about giant monster fights!" Yes, that's true, but every good action film has solid characters to carry the film along with the action. This film puts the monsters before the characters, but the monsters are nowhere near interesting enough on their own to carry the film. For all their cool designs and weighty feel, there's no emotion behind them. They're too alien to connect with, leaving us without a heart and soul in the back half of the film. I wanted to like it as it went on, but my attention started to drift and the film never tried to get it back.
I like the world of Pacific Rim and I think it has real merit. If NetflixOriginally started as a disc-by-mail service, Netflix has grown to be one of the largest media companies in the world (and one of the most valued internet companies as well). With a constant slate of new internet streaming-based programming that updates all the time, Netflix has redefined what it means to watch TV and films (as well as how to do it). is ever able to get a series based on these films off the ground, I'd be happy to take a look. Long-form story telling in this world, especially if Del Toro is involved, could be really great. If the series can deliver the character beats along with the action, it could be a real winner. But until that film becomes a reality I think I just have to admit it: I'm not a fan of Pacific Rim.